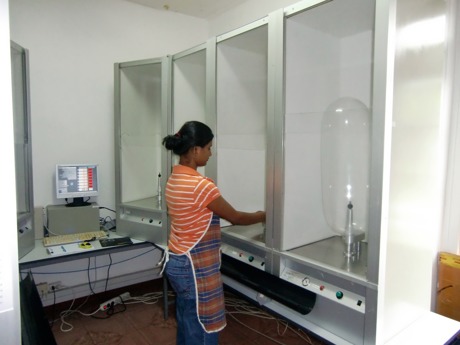 Testing Services for Male- and Female condoms
Valendor Laboratory was established in Sweden 2000 and moved to Mauritius 2005.

We are now one of the leading laboratories offering accredited testing services of all type of male- and female condoms.

Valendor Laboratory is providing testing services to several governmental authorities and NGOs as well as to the leading procurement agencies engaged in public sector procurement of contraceptives .
Testing and Inspection Services
Testing Services
Valendor Laboratory offers (ISO 17025) accredited third party testing services for all male- and female condoms according to international standards as ISO 4074, ISO 25841, ISO 23409, WHO specification etc.

Inspection and Sampling Services
We provide pre-shipment inspection and sampling services on products waiting for release at the manufacturer's warehouse.

Full Inspection, Sampling and Testing Services
We can take full responsibility of Inspection, sampling and testing services as per above, including shipment of the samples by courier.

Training and Consultancy Services
Training Workshops for
Male- and/or Female Condom Testing
We organize training workshops for laboratory management and technicians at customers sites and in our accredited condom testing laboratory in Mauritius.

The training consists of both theorethical and practical sessions. Each worskshop/session is designed and tailored together with the customer and can have a focus one or more areas according to the needs of the participants or the organisation as a hole (e.g. improve the output of the team).

Consultancy Services
Assistance to laboratories in preparation for Quality System
and Quality Procedures

Assistance to laboratories in preparation for accreditation

Assessment and assistance of selection of condom suppliers (manufacturers) and in preparing purchasing agreements